Cape Byron is the easternmost point of the mainland of Australia. It is approximately 3 kilometres northeast of the town of Byron Bay. For thousands of years, the Cape Byron headland has been a significant place for the Bundjalung people of Byron Bay (Cavanba). This place provided the local Aboriginal people with physical and spiritual resources.
Cape Byron was first observed by Captain James Cook on 15 May 1770 and named after his navigator Vice-Admiral John Byron. In 1826 Captain Henry John Rous explored the region seeking navigable rivers and safe anchorage. It was during this period that the first face-to-face contact between the Bundjalung people and the European colonists occurred.
On Australia's most easterly point, on top of the rocky headland, sits the iconic Cape Byron Lighthouse. Offering stunning views over the Pacific Ocean.
Cape Byron Lighthouse was designed by Charles Harding and Cecil W. Darley and was built from 1899 to 1901. Cape Byron Lighthouse is Australia's most powerful lighthouse and is one of the town's most visited attractions.
All year long thousands of tourists visit this place and enjoy the breathtaking views that the lookout provides. There is nothing more magical than watching the sunset from the lighthouse, so usually many people gather here before nightfall.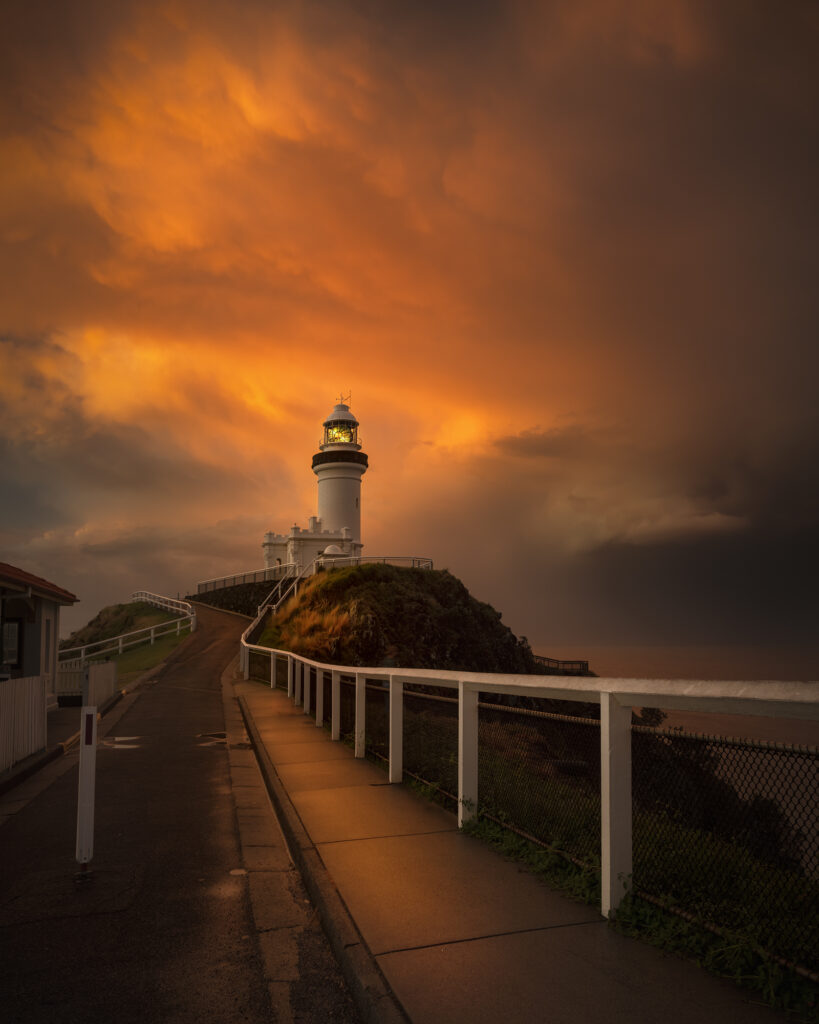 In May 2020, at the beginning of the Coronavirus pandemic the scenery changed drastically. It was quiet in the normally busy Byron Bay, and only locals were out enjoying the day. I was working in the area for a couple of weeks, and it was my daily routine to walk up to the lighthouse most afternoons.
On this afternoon it was deserted. No one was around and it was so silent that I could hear the song of every little bird carried by the wind. Standing there surrounded by only the whispers of nature was an incredible feeling.
A giant storm was forming over the horizon, and it was approaching steadily. I sat down into the grass watching the gathering clouds. The sheer power of nature was so impressive, my whole body was covered in goosebumps. I felt like a lilliputian in the shadow of the monstrous clouds, it was a very humbling experience. The storm reached the headland just when the sun hit the horizon. The whole sky started burning like wildfire. The whole landscape filled with a vivid scarlet colour; it was unreal.
A couple of minutes later the passing clouds begun, pouring rain and hail accompanied with rumbling thunder.